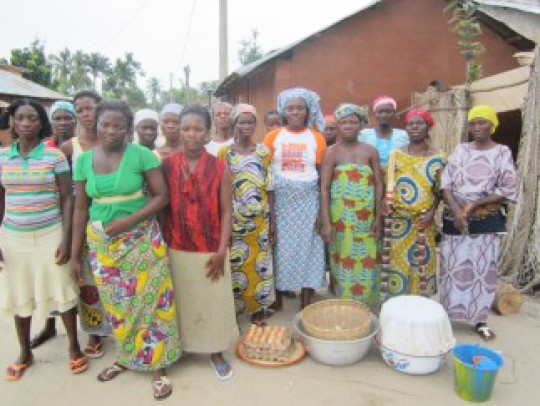 Wangninan 2 Group – Food Retail and Service (Adjroko District, Benin)
The Wangninan 2 group is based in the Adjroko district of Benin. There are 35 women in this group, aged between 18 and 60. These women are married, divorced and some are widows. The women have children who go to school or who are under five. The group has previously accessed many loans from the Association des Caisses de Financement à la Base (ACFB), and they successfully repaid them.
The women of the Wangninan 2 group mostly run market stalls selling various food products, and some run workshops such as sewing, hairdressing, photography, etc. They started their businesses for different reasons, generally to reduce poverty levels within their families and to be independent. They want this loan to buy more stock such as vegetables, maize, beans, oil, tomatoes, and raw materials, in order to reach more customers in their villages. The loan will be shared among the members in the group.
Elisabeth Dossa Gbemenou is 50 years old and married. She is a member of this group and has six children who go school. She is the chairwoman of this group and her husband is a farmer. Her main activity is to sell maize gruel and sugar-cane. She would like this loan to buy bags of maize, sugar and sugar-cane. Elisabeth cooks her gruel at home for the market of Adjroko. Currently, her family members help her in daily business operations. She is very happy of her business, because she is able to help in household fees and now, she is also saving money to buy a small plot of land. She is also very happy to manage this group with the training she has received from the ACFB