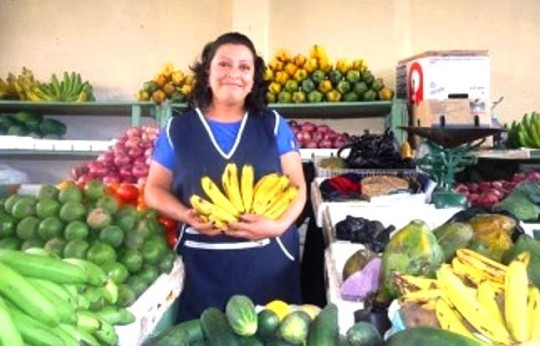 Maria Cecilia Granda – Greengrocer (Loja, Ecuador)
Maria is 35 and married with three children who all attend primary school. She is from the southern city of Loja, and the fifth of six children. She was only able to attend a couple of years of secondary school herself.
In order to provide additional income needed for her family, and with help from a sister, Maria started a market stall selling vegetables at the main Loja market several years ago. However, she often has to acquire stock on credit from a wholesaler, the extra cost of which reduces her income; and the items available on credit are often those of lesser quality or not as fresh. She requested a loan to enable her to buy fresh fruits and vegetables wholesale in order to improve her business and keep more of the revenue by acquiring her stock at lower cost.
The loan is being handled by Fundación de Apoyo Comunitario y Social del Ecuador (FACES) a nongovernmental organization established to contribute to the economic and social development of the southern region of Ecuador, in particular to facilitate empowerment of marginalized and/or vulnerable social and economic groups, through the provision of microfinance and other development support.