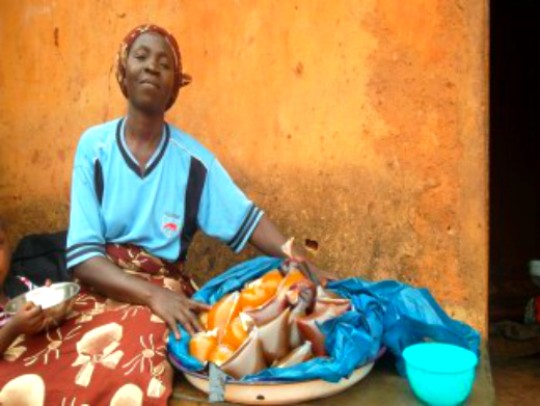 Justine Odouinsi – Retail, Health (Pobè, Benin)
Justine is married woman, mother of 3 children, two of them still living at home. Her husband is a motorcycle taxi driver. Justine is 52 and never went to school or received any training, but since 1994 she has been running a business. She prepares and sells "tisane", a type of tea consumed widely in the community. This is an herbal tea obtained from the infusion of leaves, bark and root of a tree.
Justine also prepares other teas and concoctions with medicinal properties, for example to help fight or prevent infections. Justine buys the raw materials she needs from farmers in her village or at the general Pobè market.
She sought a loan through AFCB Benin, which she has used before, in order to buy additional herbs, leaves, roots and bark for her teas and preparations.
ACFB Benin, a non-governmental organization that offers savings facilities as well as individual and group loans, mainly to women microentrepreneurs who are engaged in a range of small-scale commercial activities and agricultural and livestock production.
She aspires to develop her own gardens one day in order to grow plants used in her business.