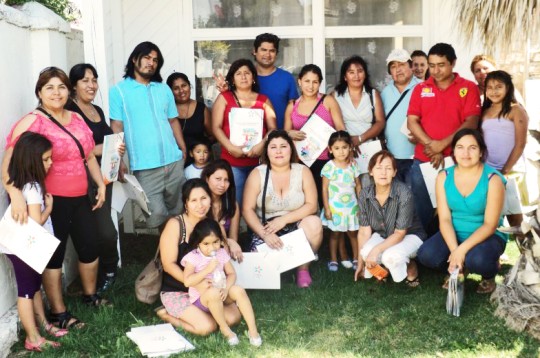 Hijos Del Sol Group – Clothing (Independencia, Santiago, Chile)
This communal bank is called "Hijos del Sol" ("children of the sun", in English) and has eighteen entrepreneurs, all of whom have different businesses. There are electricians, upholsterers, photographers, craftsmen, clothes vendors and dressmakers, among others. All of the entrepreneurs live in the Independencia commune, in the city of Santiago.
In flowery shorts and a black top, kneeling with her daughter in the photo is América. For two years now she has been selling clothes. She has exclusive designs, created with the help of two designers and she sends for her patterns to be made. She buys her merchandise in a district known for its fabric shops, near to her home. In addition, she sells perfumes, which she buys from distributors.
She works from home, going door to door and takes orders. She says that she also worked as a home assessor in the Las Condes commune, which is far for her home. She did this 15 years ago when she came to Chile (América is Peruvian). She has used her loan to by new fabrics.
América is motivated to work away at her business so that she can give financial security to her children. She lives with her three children and with a higher income she will be able to pay for their education. She has liked working with Fondo Esperanza as they teach her to value her business and teach members to support each other. She also likes the relationship with others, particularly as a foreigner. She has been warmly welcomed into the group.
Independencia, in the north of the city, is one of the 34 communes that make up Chile's capital, Santiago. It emerged at the end of the nineteenth century as a traditional area. Its centre is Avenida Independencia, the road along which the ancient "Camino del Inca" (Inca path) ran. This was the main entry from the north into the city of Santiago. Given its large indigenous population, it is in Independencia that you find Chile's Indigenous Culture Centre. The area also has various significant, historic buildings, including six of the country's monuments.